UNSTUCK: The Ultimate Guide to Getting and Staying Motivated – Digital Download
In Unstuck: The Ultimate Guide to Getting and Staying Motivated, Dr. Shannon Simpson Shand shares useful tips about going from being stuck to being unstuck. The reader will learn how to activate their intrinsic motivation, combat mental fatigue, and learn the skill of self-motivation. This book also includes ways to rejuvenate your passions, things to do when you feel unmotivated, ways to inspire yourself and others, how to gain inspiration from the success of others, quick ways to get out of a rut, and a whole lot more.
This book also offers affirmations, reflections, and inspirational journaling. You will be inspired to take action when you are finished reading this book!
Related Products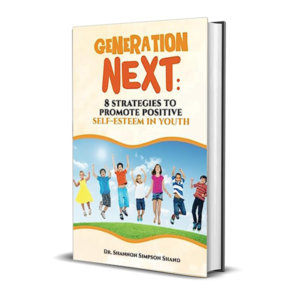 Generation Next: 8 Strategies to Promote Positive Self-Esteem in Youth – Digital Downloads
Welcome to "Motivational Affirmations: A Coloring Book for All Ages"! Immerse yourself in a world of positivity and creativity with this inspiring coloring book designed to uplift and motivate individuals of all ages.
Inside these pages, you'll find a captivating collection of beautifully hand-drawn illustrations, each accompanied by empowering affirmations and motivational quotes. Whether you're seeking a moment of tranquility, a boost of confidence, or simply a creative outlet, this coloring book is the perfect companion on your journey to self-discovery and personal growth.
Unleash your artistic talents as you bring these enchanting designs to life using your favorite coloring tools. As you fill in the intricate patterns and intricate details, let the affirmations guide your thoughts and empower your spirit. Each stroke of color becomes a powerful reminder of your inner strength and potential.
This coloring book goes beyond just coloring; it serves as a source of inspiration and encouragement. Discover the transformative power of positive thinking as you immerse yourself in uplifting messages that promote self-belief, resilience, and a can-do attitude. Allow the therapeutic benefits of coloring and affirmations to restore your inner balance and reignite your passion for life.
Ideal for both adults and children alike, "Motivational Affirmations" is perfect for quiet moments of self-reflection, group activities, or a thoughtful gift for loved ones. Create a vibrant masterpiece, frame it, and let it serve as a constant reminder of your unlimited potential and the beauty that lies within you.
Get ready to embark on a journey of self-discovery and empowerment. Grab your favorite coloring tools and delve into the world of "Motivational Affirmations: A Coloring Book for All Ages." Let the transformative power of coloring and positive affirmations inspire you to live your best life and embrace the limitless possibilities that await you.
not rated
$

4.99
Add to cart